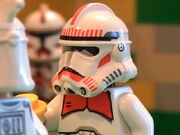 Red is a character in the Base 327 series. He is a member of Red Squadron. From what we've seen he's usually with Rico or Fox. Rico usually gets him into messes such as the falling ladder in Christmas at Base 327 2 and the assault tank explosion in Base 327: The New Guy. He is played by Tristan Davis.
Personality
Edit
Plain: Red is a more plain thinker, who just likes to stick around, especially with Rico and sometimes Fox.
Red's main unofficial "job" is to just keep his friend Rico company and out of trouble, though he just gets dragged into trouble often easily.
Relationships
Edit
Rico: Rico is basically Red's best friend, and Red the deurtagonist. Red just hangs with him and makes sure he doesn't get into any trouble. Like Fox, he tries to acknowledge Rico as well, even if it has no effect.
Fox: Like Fox, Red tries to help Rico. They're just two normal guys.
Appearance
Edit
Red is a Shock Trooper.
Community content is available under
CC-BY-SA
unless otherwise noted.